Hello Munich!
Discover our exciting jobs in Munich.
What we love here
We are located directly at the Theresienwiese, and die-hard Munich fans are happy that the Wiesn is only a stone's throw away. Otherwise, we like to sit together in our large bistro on the 5th floor to have lunch or talk about our projects. In the summer, we have ice cream from the freezer we bought especially for this purpose, and there's always a nice chat at the coffee machine.
Who we are here
As one of the largest locations, we have someone from all areas and almost all projects on site at Munich's Theresienhöhe. You'll also find most of our internal services teams here, such as our finance department, everything to do with recruiting and HR, internal IT, marketing or our office management.
What we do here
Colleagues of all experience levels support many exciting customers, also from the Munich area, such as BMW. Many working students and interns strengthen our team and get to know the practice and everyday project life here.
"Here I am surrounded by people who put a smile on my face every day, from whom I learn, with whom I work together for the same goal and in the end celebrate our successes!"
Lisa Lechner, Senior Marketing Expert
Our oldest site
Office with charm
Surrounded by small restaurants, Theresienhöhe 13 offers a beautiful view of Munich's east and the Oktoberfest. A spacious bistro area, small and large office spaces, and many different meeting and creative spaces make this location a perfect place to work.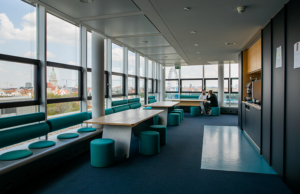 Here you can find us
Directly at the Theresienwiese
Our office is only two stops by subway from the main train station. We are also easy to reach by bus or bicycle. You can park your car in the underground garage.
MaibornWolff GmbH
Theresienhöhe 13
80339 München
Our offices
Want to explore more locations?