Estimated reading time: 3 minutes
Techblog
Driving a real car in a virtual world
What happens if you drive a real car in a virtual world? It becomes magic. Our software engineers Daniel Irmler und Julian Feller were live at the world premiere of the BMW Group's unique driving experience at Web Summit 2022 in Lisbon.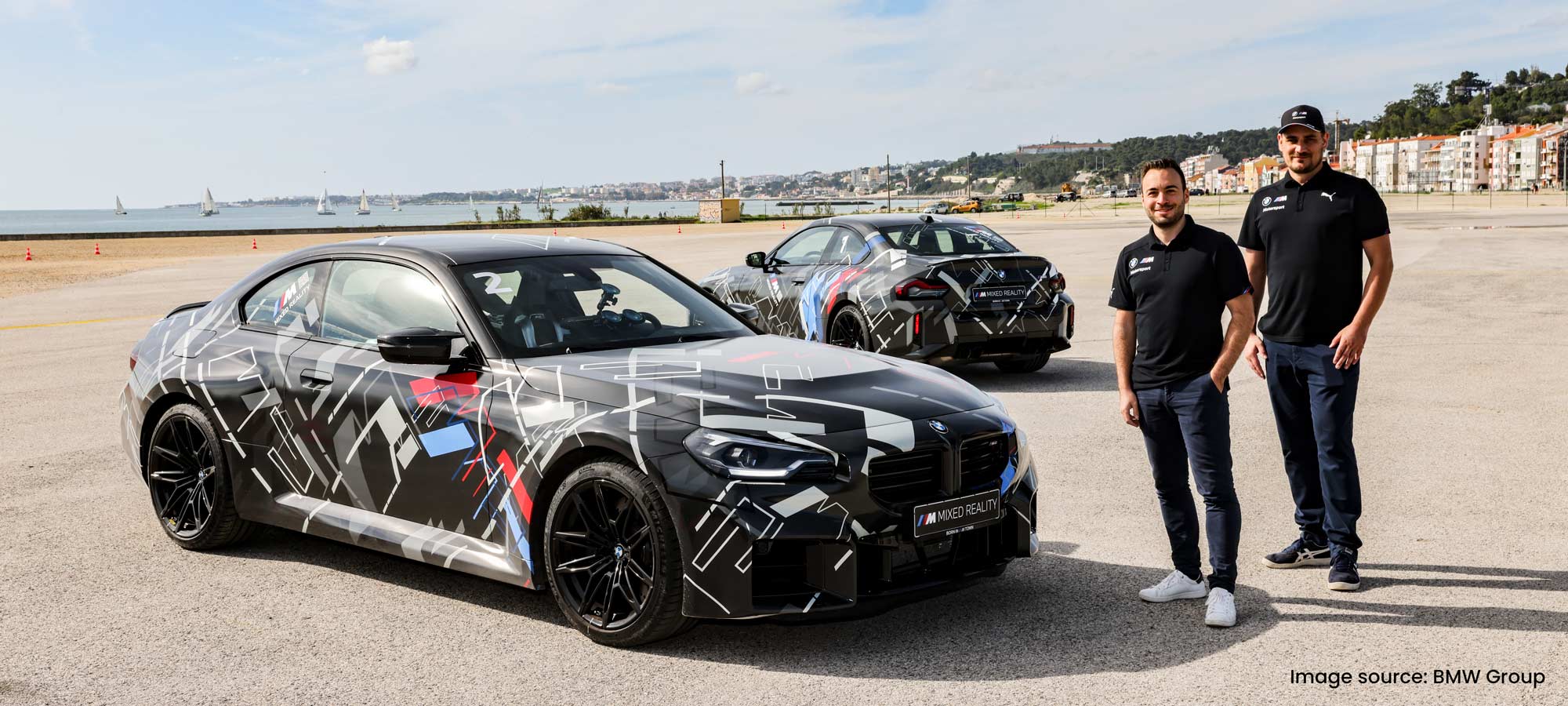 The new driving experience with VR/MR technologies
With ///M Mixed Reality, the BMW Group is not only bringing the virtual world into the vehicle, but the vehicle itself is becoming a controller. This new driving experience is enabled by innovative VR/MR technologies that combine the virtual and physical world. The immersive in-car experience in the new BMW M2 is enabled by integrated gaming elements.
As part of the BMW Group development team Daniel and Julian have already completed countless rounds of testing with the XR glasses in the car. Behind the team are two years of basic work, trying things out, amazement, some setbacks and of course a lot of progress that they are proud of.
"Control over a roller coaster"
Daniel Irmler: "We are all super proud to be a part of this great initiative which created an experience that has never been seen before. At my very first test drive I was amazed how trust set in immediately. It's like riding a roller coaster that you have full control over."
The biggest challenge in the eyes of Christian Langenmair, Head of Mobile and X-Reality at MaibornWolff GmbH: "The team had to map the highly dynamic movements in the virtual world exactly to avoid motion sickness. To do this, the team designed a high-performance vehicle interface to determine position, movement and acceleration and use it in the game."
The gameplay based on the Unreal Engine
The team implemented the gameplay based on the Unreal Engine and our 3D artists Lucas Böhringer and Eric Eschrich designed an impressive virtual world. 3D Artist Lucas: "It was a pleasure working on this project with this amazing team. Seeing the development day by day and the work to this point on this project with such highly skilled colleagues was truely amazing! I am really honored and thankful to be a part of this incredible team!"
And 3D Content Creator Eric Eschrich added: "Thanks for such an amazing project with wonderful collegues, a high committed client and a huge amount of creative freedom! It is a honor and pleasure to be part of this team!"
We are looking forward to continue our contribution to this unique initiative!
Here you can find the clip
Image source: BMW Group
---