You apply to us and we apply to you
At eye level
We want to get to know you as a personality. We take our time to do this. This also gives you the opportunity to get a comprehensive picture of us. The entire process is always transparent – so that both sides know where they stand at all times.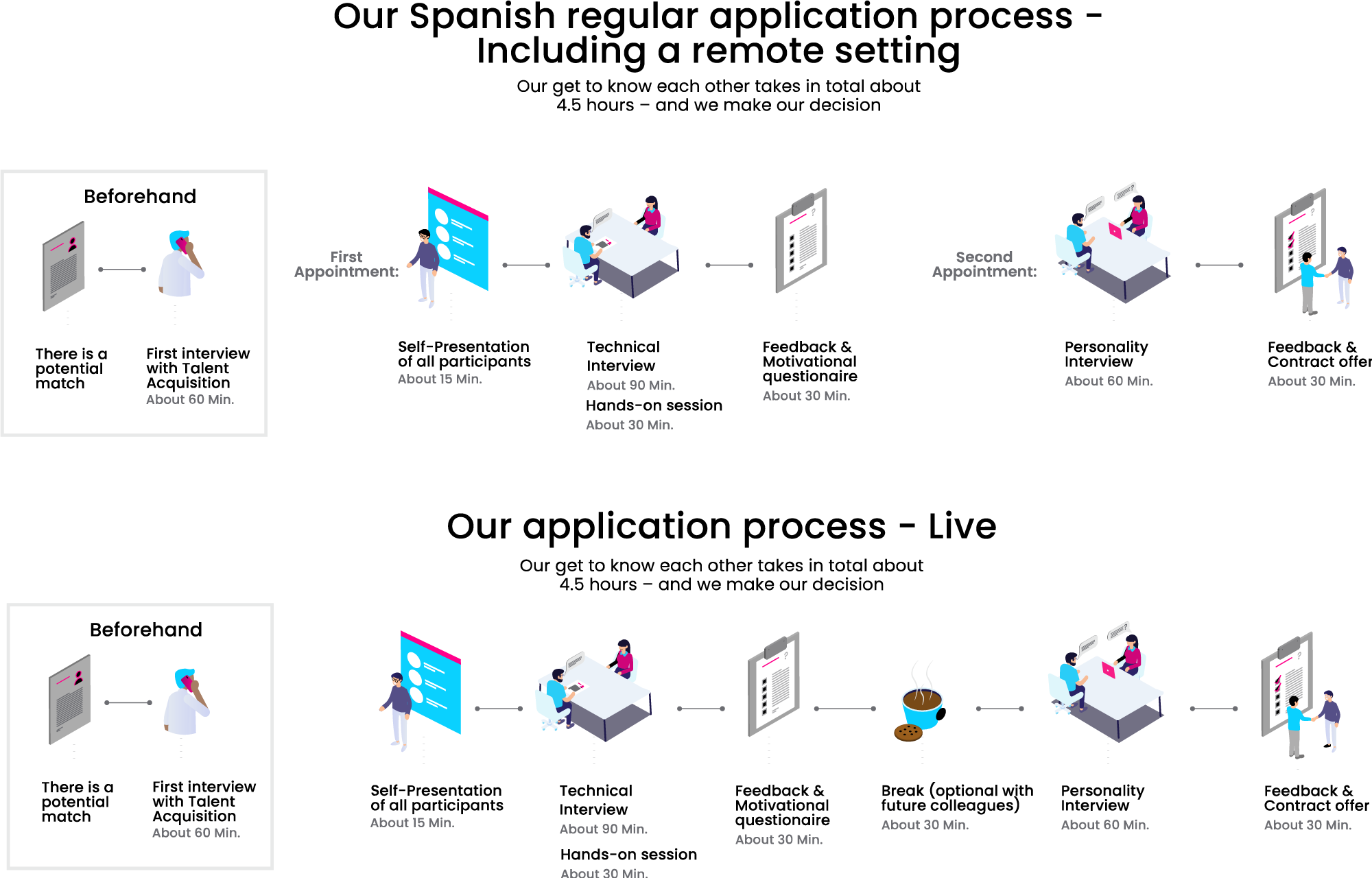 Welcome on board
Onboarding
Before you start
You chose us and we chose you – welcome to the team! We want to make your arrival phase as pleasant as possible. One week before your first day with us, you will receive an e-mail containing all the important information about your start, including a contact person in case you have any questions.
Your first day
We will start your first day with a joint breakfast with us. You will also get to know our friendly, very international, and cosmopolitan team in the Valencia office. Your colleagues are already looking forward to welcoming you and getting to know you!
We will then show you everything you need to know about internal IT and you will receive your hardware equipment. During a joint lunch you will get to know your colleagues who are starting with you better. During the office tour, you'll learn everything you need to know about your location.
Your start
All newcomers are assigned a mentor for the first six months. Their job is to help you with any questions you may have. They will also help you make contacts in the company, show you where to find the information you need and whatever else you need to know.
In the first weeks we invite you to our New-on-Board meetings – these are voluntary, of course. For example, those who like to do so can exchange ideas with the other newbies across sites and locations over a virtual coffee.

MaibornWolff onboarding event
Find out what who does where and how at our kick-off events. There, the internal service areas such as Office Management, Finance or our Campus introduce themselves and you get an overview of our operational areas as well as the cool projects we are currently working on. We will talk to you about cultural topics, tell you about our history and much more. To loosen things up, there are games in between, and in the evening, we go out for a meal together with one of our managing directors.