Software Engineer (m/f/d) Java
Do you already have several years of development experience and are especially interested in backend or full-stack development? And in a nice working environment? Then take a moment and get to know MaibornWolff.
Our projects are as diverse as our clients. Would you like to see some examples? We network household appliances via the cloud, help an automobile manufacturer with the everyday use of electric vehicles and develop a medical diagnostic assistant that improves patients' quality of life. Our customers come from different industries. This means that we always gain new perspectives and bring variety into our everyday lives.
Together with other software developers, software and IT architects, you develop exciting software solutions, share your experiences with junior developers and discuss with your team on various software engineering topics. Whether in our own four walls or at conferences. Scrum and Kanban are our agile tools in everyday life. Thanks to cross-functional teams, you will meet many colleagues from different disciplines.
We offer you a lively culture of professional development. You will not only get to know new technologies and methods in everyday development. Thanks to a training budget, you can take part in numerous training courses and conferences. Or you can create your own training courses for our internal academy. In this way, you expand not only your own horizons, but also those of your colleagues.
Your Role
You develop modern applications for your customer with your colleagues, also in the cloud environment.
You help shape the entire life cycle of the software and ensure clean code quality.
You think about scalable software architectures, e.g. microservices.
You can supervise individual projects depending on your level of experience.
You document your work and help your team to maintain an overview.
Your Profile
You have a degree in computer science, media informatics, business informatics or a similar field.
You have several years of development experience with Java, ideally together with Spring. Or you have experience with another OOP and want to switch to the Java world.
Ideally, you are proficient in other programming languages such as Kotlin, Golang or JavaScript.
You ideally have experience in cloud development (Azure, AWS).
You speak fluent English.
Any Questions?
We are looking forward to your application! You are still unsure whether you meet all the requirements? Then there is only one way to challenge that: simply apply! That's the only way we have a chance to find out together if it's a good fit now.
You have more questions that our website & FAQ don't answer? Then write to us at talents@maibornwolff.de.
Your benefits
Training
You have a contractually guaranteed budget of 1.5 gross monthly salaries at your free disposal.
Free choice of workplace
In the office or at home: You decide when and where you work after consultation with your team.
Equipment
You get an iPhone from us. You also have the choice between a Macbook or a Dell notebook. What you need beyond that, you decide.
Work time account
Overtime is not the rule. If they are due, they do not expire. In demanding phases, you accumulate your overtime on your hourly account. In quiet phases, you balance them out again.
Flexible working hours
We do not have core working hours. You decide when you start and when you finish. The only condition: The cooperation with customers and in the team must work.
Part-time models
You decide how many hours you want to work. We are flexible. You can also adjust your working hours on a monthly basis.
The mediterranean flair
At the port of Alicante
Our modern offices as well as several meeting rooms, the amazing terrace on the third floor, the functional kitchen area and the open space on the ground floor offer several nice possibilities to work, meet and socialize.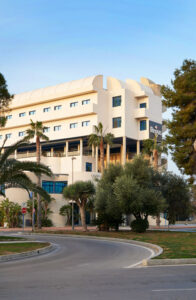 Here you find us
Off to Alicante
Right at the port of Alicante, only a few minutes away from the city center, easy to reach by public transport from all directions – also from the airport of Alicante-Elche within about 20 minutes.
MaibornWolff S.L.
Regus – Alicante, Business World Alicante, Antigua casa del mar
Av. Perfecto Palacio de la Fuente, 1
03003 Alacant, Alicante
Learn more about us
Topics that might be interesting to you…